My mother is the most wonderful mom in the whole world!
She is as pretty as a flower.
She weighs 20 pounds and she is 30 inches tall.
Her favorite food is pasta.
When Mom was little she used to play with girly LEGOS.
I think mom looks funny when she makes faces.
I know she's really angry when (she is never at me).
I wish Mom would play soccer with me every day.
I wouldn't trade my mom for a LEGO Darth Vader.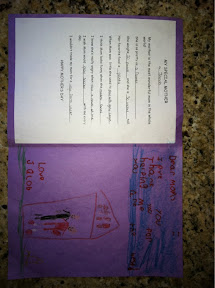 - Posted using BlogPress from my iPhone
Location:Broad Oaks Ln,Rosharon,United States